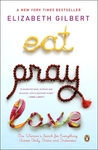 Eat, Pray, Love by Elizabeth Gilbert
My rating: 4 of 5 stars
Why oh why did I put off reading this book? I had it in my to read list for so long and I had it in my head that I just would not enjoy it as much as other books I had to read. I wish I had read it before. Elizabeth charts her journey from ending her unhappy marriage to finding peace within herself whilst enjoying life in 108 chapters or 3 sections.
The book is in 3 sections the first is the journey to Italy after the marriage ends which is the eat part of the story. The second is to India which is the pray section and last portion is Indonesia for the love.
I found all really enjoyable to read even if high fluting in places, boy I wish I could just take a year out to do all that whilst finding inner peace and seeking my spirit guide. The Italian and Indonesian sections were the parts I enjoyed the most the Indian section was nice to read but did go on a bit too much.
I think the moral of the story was to take time out for yourself and get that right balance, something that touched a nerve with me as I struggle with my work/life balance at the moment.
I think the book is better than the film and goes into more depth (as you would expect) than the film providing more background to the situation and also showing that things did not always pan out so easily, Tutti's mum is an example of this.
A good holiday read.